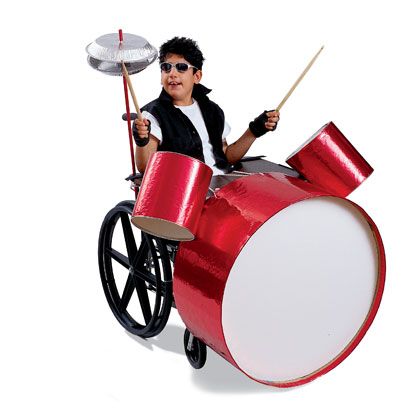 Halloween is a holiday with no limitations. This is the one day of the year where we can be absolutely anything we want. This includes adults and kids in wheelchairs. We have long been aware of some of kids with disabilities that make wheelchair Halloween costume that turn their mobility device into part of their costume but this year we are seeing more of it than ever.
Thanks to the blogosphere, wheel chair costumes are getting a lot of attention lately. The creativity we have seen is simply amazing!  Therefore, we decided to search the internet and share some of the best ideas we have found. So many of them are so simple yet so awesome you will wonder why you didn't think of it.
People with special needs who require a wheelchair sometimes have a difficult time with costumes. Issues may include details of the costume not showing, the costume not fitting over adaptive equipment and more, depending on type of disability. Wheelchair costumes are another way of breaking down a barrier, making dressing up more comfortable, more entertaining and more fun.
Some of the amazing ideas we have found include the following:
Fireman in a truck
Jack in the Box
DJ with two turntables
Princess in a Castle
Pilot in a plane, surrounded by clouds
Cowboy on a horse
Flower in a garden
Astronaut in a spaceship
Knight on a horse
Rabbit in a Magicians hat
Policeman in a cop car
Pirate on a Ship
Viking on a ship
Construction man in a bulldozer
Conductor on a train
R2D2
Snoopy in his doghouse
A toy box with the child as a teddy bear
NASCAR driver in car
Han Solo in the Millennium Falcon
A disability should never to a reason for any child to be excluded from an activity. There is always a way to adapt. Trick-or-treating is something that every child and parent should experience. Making a do-it-yourself wheelchair costume will help a child with a disability fit right in.
Embrace the wheelchair by combining a standard Halloween costumes with some DIY ingenuity to create one of these inspiring wheelchair costume ideas.